Wouxun KG-UV899 220/UHF Dual Band Pure Amateur Ham Radio
$69.99 CAD

$69.99 CAD

Save

$30.00 CAD
---
---
Dual Band Excitement
Mono Band Pricing!
Introducing the Wouxun KG-UV899, Dual Band excitement, Mono Band pricing!
The KG-UV899 operates at 4W. It features over 100 programmable memory channels compatible with both simplex and repeater pairs. Standard repeater tones are also available (CTCSS / PL) and you can set the frequency shift for + or - to either than standard 600Hz / 5kHz or set your own, perfect for working with odd splits.
.
The KG-UV899 also has dual watch. With dual watch you can monitor a calling frequency while listening for activity on your favourite repeater. When the radio detects a signal it will allow you to hear the full transmission before going back to dual watch. 
.
Don't let the low price fool you. The KG-UV899 is packed with all the features you would expect to find in a ham radio. Channel Name edit and display, Dual Standby, 76-108Mhz FM radio, DTMF encoding, low voltage warning, voice prompt. 
The KG-UV899 is powered by 7.4v 1300mAh Li-Ion battery pack for reliable operation. Power saver mode helps increase efficiency and preserve battery life, great for when working public service events. High and capacity batteries are also available for when additional run time is required. 
.
The Wouxun KG-UV-899 comes standard with a one year Wouxun Warranty, which is administered in Canada by Fleetwood Digital when you purchase from us. Other dealers will give you a 30 day return, and then after that your on your own. NOT AT FLEETWOOD! We look after you for the entire duration of the warranty period, ONE FULL YEAR.
.
Comparison Vs. other Low Cost Radios
Over the competition, the Wouxun KG-UV899 offers the following.
A full 4W of output power.
Constructed to IP55 for weather resistance 
Exceptional build quality
More robust stock antenna
220 - 225Mhz / 430 - 450Mhz
Emergency Alarm/SOS Function
Channel Name Edit and Display
PC Programmable (Requires PCO-001 Cable)
IP55 Water Resistant (Rain)
DTMF Encoding and Decoding
25KHz / 12.5KHz Channel Spacing
One Year Canadian Warranty (Serviced in 

Canada,

 Not China)
UNLIKE OTHER RADIO DEALERS, FLEETWOOD DIGITAL
WILL RESOLVE YOUR WARRANTY CLAIM FOR YOU,
NOT MAKE YOU SEND THE RADIO BACK TO CHINA. 
Transmitter

Frequency Stability

±2.5PPM

RF Carrier Power

4W 

Effective Radiation Power (ERP)

within pre-determined value ±7.5dB

Max. Frequency Deviation

Channel Space: 25KHz  ±5KHz
Channel Space: 12.5KHz ±2.5KHz

Audio Modulation

+3dB (pre-emphasis by 6dB between 0.3-3KHz)

Adjacent Channel Power

Channel Space: 25KHz  ≥70 dB
Channel Space: 12.5KHz  ≥60 dB

Frequency Steup

5 , 6.25 , 10 , 12.5 , 25 , 50 , 100kHZ

Spurious Radiation

≤-30dBm

Inter modulation Attenuation

≥40dB

Modulation Distortion

≤10%

Residual FM

≤-35dB

Residual AM

≤3%

Receiver

Sensitivity (12dB SINAD)

0.16µV

Squelch Rejection Sensitivity

≤0.8µV

Squelch Sensitivity

≤0.2µV

Audio Output power

500mW

Audio Distortion

≤5%

Audio Response

(300-3000Hz)  +1 to -3dB

Co-channel Rejection

≥-8.0dB

Performance of Amplitude Limiter

≤3

Adjacent Channel Selection

Channel Space: 25KHz  ≥70 dB
Channel Space: 12.5KHz  ≥60 dB

Inter-modulation

≥65 dB

Resistance

≥84 dB

Spurious Radiation

9KHz-1GHz≤-57dBm
1GHz-4GHz≤-47dBm

What's in the box?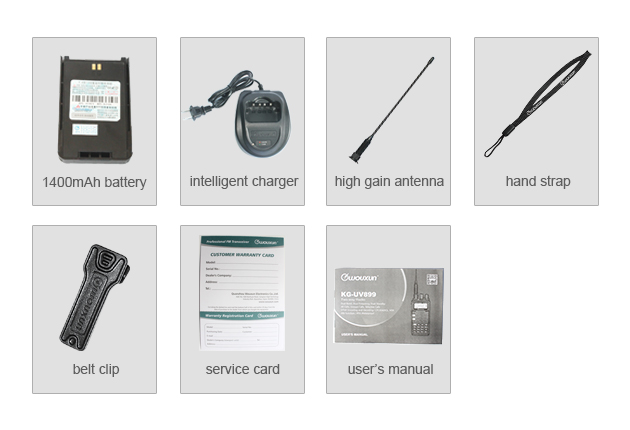 UV899 Dual Band Radio

1300 mAh Lithium Ion Battery

Desktop Battery Charger (AC Only)

Dual Band Antenna

English Users Manual

Belt Clip

Wrist Strap
---
We Also Recommend
---
QUESTIONS & ANSWERS
Have a Question?
Be the first to ask a question about this.
Ask a Question