Let Your Friends Know You Want This!
pick-up
, or Canada wide
shipping!
Proudly processed by our Quebec warehouse.
Regular price
Sale price
CHF 60.00
Unit price
per
Sale
Sold out
Promotions

Login to your account or create one, to see what QSO Rewards are waiting for you!
Quick Specs

Scoll down for more information about this item.
K40 CB Radio Antennas and Accessories for the Professional 
Driver 
Nothing can be worse than being out on the road and having equipment fail. Especially if it's your CB equipment. But with K40 CB Radio Antennas and Accessories, you won't ever have to deal with that hassle. 
K40 products are created using the finest state of the art computer technology and are incredibly rugged and durable. K40 promises consistently superior and precise performance. 
No matter what, no matter where you drive, you can trust K40 to go the distance, providing intensely accurate and clean communications. 
 K40 products are proudly made in USA of only the highest quality of components available in the market. We use only the highest grade of 17-7 stainless steel on our antenna whips and our cables are 95% shielded making signal loss almost nonexistent. 
Plus, K40 promises your complete satisfaction with our 30 day money back guarantee. 
K40 - "K30" 35" Magnet Mount Stainless Steel CB Antenna, 300 Watts 
300 Watts AM Power Handling Capability (ICAS) 

15' Pre-Wired RG-58AU 95% Shielded Coax Cable Stranded to Prevent Breakage 

Cable Includes PL259 Connector 35", 17-7 Stainless Steel Whip Antenna 

Radius 180° Tip Eliminates Need for Ball 

Heavy Duty 4" 10oz. Magnet 

Base Loaded Coil Made in the U.S.A. 

Limited One-Year Warranty
View full details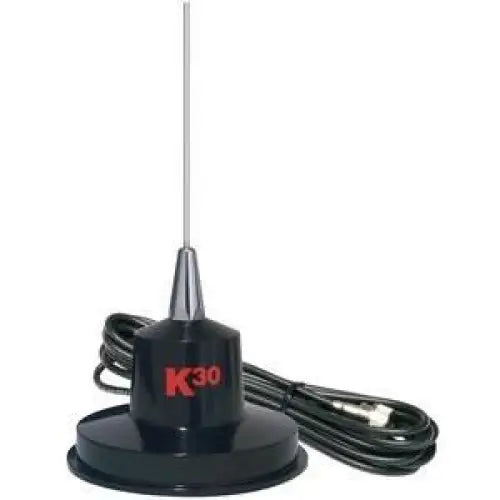 can this antenna be trimmed to be resonate about midband 10m ? do you have suggestions ? I am pondering buying a 10m Mobile Xcvr. Do you stock the Ranger 10/12m Xcvr. Or can you order it ?

I make available the Wilson Little Wil for 10M. It is rated for both 10/11M.
https://www.fleetwooddp.com/products/wilson-little-wil-magnet-mount-cb-antenna-kit

Sorry, I checked, but currently cannot get the Ranger.

Thanks
Bill