Let Your Friends Know You Want This!
pick-up
, or Canada wide
shipping!
Proudly processed by our Quebec warehouse.
Regular price
Sale price
CHF 217.00
Unit price
per
Sale
Sold out
Promotions

Login to your account or create one, to see what QSO Rewards are waiting for you!
Quick Specs

50W

Scoll down for more information about this item.
The President Richard FCC represents the ultimate when it comes to CB styled 10+ Meter radios. Our techs inspect all Richards before they leave the factory to ensured they are operating at peak performance and tuned just they way you would expect it to be!
- Rotary switch channel selector
- Volume adjustment and ON/OFF
- RF Power
- Manual squelch and ASC
- Multi-functions LCD display
- Frequencies display
- S-meter
- Public Address
- ANL filter, NB and HI-CUT
- RF Gain / Mike gain
- Scan
- Talkback
- MENU function key
- Beep Function
- Roger Beep
- Mode switch AM/FM
- Tone
- VFO Mode
  (continuous scanning of 28.000 Mhz to 29.700 Mhz)
- Vox
- Echo
- Mic type electret / dynamic
- SWR (Power Reading /SWR)
- Preset emergency (EMG 1&2)
- TOT (Time Out Timer) 
- Front microphone plug
- External loudspeaker jack
- USB 5V 2.1A
Back light color :
| | | |
| --- | --- | --- |
| Supply | : | 13.8 V |
| AM | : | Y |
| FM | : | Y |
| Channel selector | : | rotary |
| VFO mode | : | Y |
| Volume | : | Volume adjustment and ON/OFF |
| RF Power | : | Y |
| Squelch | : | Manual squelch |
| ASC | : | Y |
| Display | : | LCD multifunction |
| Frequencies display | : | Y |
| S-meter | : | vu-meter |
| Public address | : | Y |
| Talkback | : | Y |
| Vox | : | Y |
| Automatic SWR meter | : | Y |
| Tone | : | Y |
| Filter ANL | : | Y |
| Filter NB | : | Y |
| Filter HI-CUT | : | Y |
| RF-Gain | : | Y |
| Mike-Gain | : | Y |
| Scan | : | Y |
| Dimmer | : | Y |
| F / Menu function key | : | Y |
| Beep Function | : | Y |
| Roger beep | : | Y |
| SWR (Power Reading /SWR) | : | Y |
| Preset channel | : | EMG 1 & 2 |
| microphone plug | : | front (6 pins) |
| External Vox microphone jack | : | Y |
| External loudspeaker jack | : | Y |
| Size (W x D x H) | : | 6,69 x 6.29 x 2.05 inches / 170 x 160 x 52 mm |
| DIN Size | : | Y |
| Weight | : | ± 2.43 lbs / 1.1 kg |
General
| | | |
| --- | --- | --- |
| Modulation modes | : | AM / FM |
| Frequency ranges | : | Continuous scanning of 28.000 Mhz to 29.700 Mhz |
| Antenna impedance | : | 50 ohms |
| Power supply | : | 13.8 V |
| Size (W x D x H) | : | 6,69 x 6.29 x 2.05 inches / 170 x 160 x 52 mm |
| DIN Size | : | |
| Weight | : | ± 2.43 lbs / 1.1 kg |
| Accessories supplied | : | power cord with fuse, 1 mounting bracket with fixing screws, Ultra light electret microphone with support |
Transmission
| | | |
| --- | --- | --- |
| Frequency allowance | : | +/- 300 Hz |
| Carrier power | : | 13 W AM (~50 W PEP) / 40 W FM |
| Transmission interference | : | inferior to 4 nW (- 54 dBm) |
| Audio response | : | 300 Hz to 3 KHz in AM/FM |
| Emitted power in the adj. channel | : | inferior to 20 μW |
| Microphone sensitivity | : | 3 mV |
| Drain | : | 7 A (with modulation) |
| Modulated signal distortion | : | 1.8 % |
Reception
| | | |
| --- | --- | --- |
| Maxi. sensitivity at 20 dB sinad | : | 0,7 μV -110 dBm (AM) / 0,35 μV -116 dBm (FM) |
| Frequency response | : | 300 Hz to 3 kHz in AM/FM |
| Adjacent channel selectivity | : | 60 dB |
| Maximum audio power | : | 3 W |
| Squelch sensitivity | : | mini 0.2 μV - 120 dBm / maxi 1 mV - 47 dBm |
| Frequency image rejection rate | : | 60 dB |
| Intermediate frequency rej. rate | : | 70 dB |
| Drain | : | 500 mA max |
View full details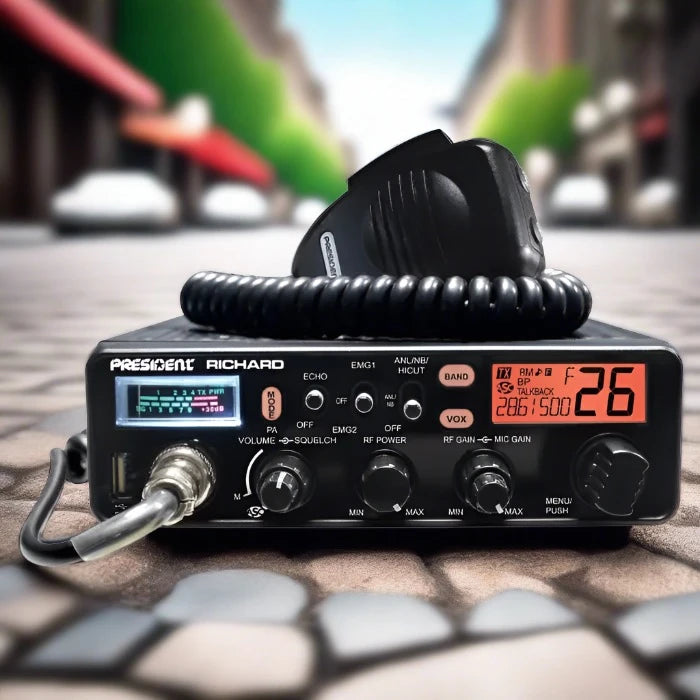 Would you be able to expand it to 11 meters and peak and tune it? President richard

Peak and Tune is a service we are just starting to offer. Please reach out to support@fleetwooddp.com and we will be happy to discuss the options with you.

Thanks
Bill